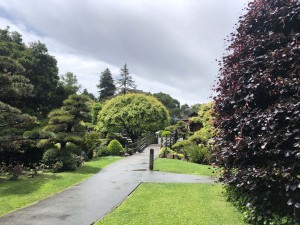 In times of trouble, in times of need, in times of struggle, it takes something new to change the status quo.  It takes something new to change the situation.  If everything stays the same, then what will happen will happen.  If you want to change what will happen, then you must introduce something new. You must create the change you wish to see in your circumstances.
I think the natural response to despair is to blame.  To blame others, to blame the situation, to blame God.  Overcoming blame is tough. It takes a combination of mental, emotional, and resource healing to gain strength.  It is strength that overcomes blame.  Blame at its core is a call for help.  When someone turns to blame, they are saying they are too weak to move on. And that's OK. It is OK to be weak.  We are all weak sometimes.  When you hear someone else blaming others, don't attack the person for choosing blame as a coping mechanism because you'll only weaken them further. Instead, find ways to support them. Strengthen them.  So that they can become strong. When someone is strong, they might hold someone else responsible, but they won't get stuck in the past, blaming the person responsible.  When someone is strong, they can assess the situation, and move on.  Strength allows you to overcome blame.
The next natural response to rationalize through logic, morals, culture, etc.  This is a coping mechanism too. It's called acceptance.  It's very effective and powerful in allowing you to accept the reality of the situation and move on from it.  From a practical standpoint, acceptance is effective.  It solves the problem by acknowledging it. And it frees you from being trapped in the past so that you can live in the present.  And by living in the present, you can create a brighter future.
I think there is a better way.  A third way.  And that is to create.  When there is a problem, rather than look for a target of blame, rather than look for reasons why to accept the situation, I would want to create solutions to the situation.  Find ways to solve the problem.  Find something out of nothing. Create what you want. What you need.
An example of creation is persuasion and influence.  If you need something from someone else, and you can't afford it outright, you can respond by blaming, or rationalizing.  Or you can respond by talking, communicating, and persuading and creating within the other person a desire to help you and therefore get what you want.
Another example of creation is negotiating. By having a conversation and understanding the needs and wants of the other party, you can better position yourself to make an advantageous trade.  Google for negotiation resources.
Another example of creation is energy and relationships. If someone else isn't behaving the way you want, or isn't responding to you the way you want, use your own energy to create an environment that enables the other to behave the way you want.  If someone is not energetic, you should be energetic to raise their energy levels with your own.  If someone is sad, don't blame them, don't accept that they are sad, work to create joy for the both of you.
Creation can do more than just give you what you want. Creation can free you from entitlement and pessimism and despair. Creation says: rather than demand things from the world, create them for yourself.  Demanding is an ineffective method of achieving what you want. It requires power, the power to overcome the power of another person. Any time you try to achieve something through force, you're wasting the world's resources because you're expending power and someone else is expending power against your power.  When you achieve through creation, you save the wasting of energy fighting and transform the energy that would have gone into fighting into energy that goes into cooperation and relationship and community building.  Creation says: rather than think the world will head towards danger, be the reason the world doesn't head towards danger.  Creation says: rather than think the terrible world you live in is permanent, change that world to be the treasures you seek.
Creation is outside the box thinking.  If a solution existed within the box, then it would have been used. Everyone works with the best options available to them.  If you find that the options available to you are unsatisfactory. Don't blame. Don't accept. Create the option you want for yourself.